WYSIWYG Web Builder has tools for both beginners and professional designers/developers.
Responsive Web Design
Built-in support for layout grid, flexbox, css grid or fixed layouts with breakpoints
Web Fonts
Easily add Google Fonts and other Web Fonts to your website.
Animations
Add amazing pre made animations and transtions or create your own animations. More than 150 pre-defined animations are included.
Pre-made Blocks
Use pre-made blocks to quickly get started. More than 150 blocks are available!
Forms Tools
Send Emails, Upload Files, Store Data in MySQL or CSV, Auto Responder, Password Protect Pages, Form Validation, Conditons/Calculations
Images & Media
Image filters, shapes, galleries, carousels, lightboxes, rollover animations, YouTube, Vimeo, HTML5 Video/Audio
Icon Libaries
Support for Font Awesome, Material Icons and many other icon libraries
Navigation
Navigation buttons, drop down menus, fullscreen menu, mega menu, panel menu, breadcrumb, pagination and much more!
Extensions
Hundreds of extensions to add extra functionality to the software. Including slideshows, navigation, audio/video, webshops, data viewers etc.
Desktop publishing for the web, build web sites as easy as Drag & Drop!
• "One Click Publishing" No FTP program needed. No special hosting required, use with any Hosting Service!
• Easily create forms using the built-in Form Wizard plus Form validation tools and built-in CAPTCHA.
• Advanced graphics tools like shapes, textart, rotation, shadows and many other image effects.
• Fully integrated jQuery UI (Accordion, Tabs etc), animations, effects and built-in ThemeRoller theme editor.
• Google compatible sitemap generator / PayPal eCommerce Tools
• Many navigation tools available: Navigation bars, tab menus, dropdown menus, sitetree, slidemenus.
• Built-in Slide Shows, Photo Galleries, Rollover images, Banners etc.
• Support for YouTube, Flash Video, Windows Media Player and many other video formats.
• Unique extension (add-on) system with already more than 250 extensions available!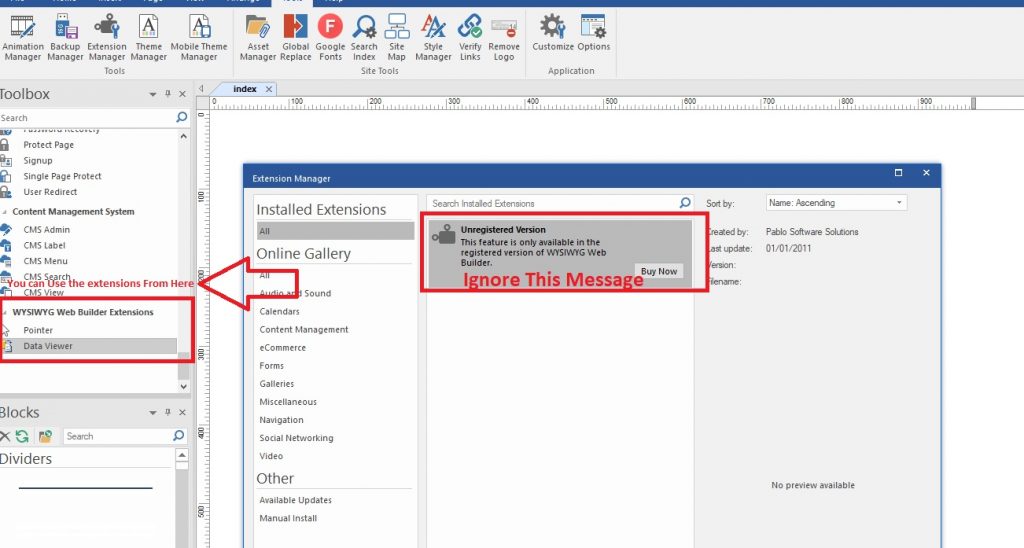 Crack Updated
(build date: March 1, 2019)
(build date: December 20, 2018) (updated 24/12/2018)

(build date: November 22, 2018)
Crack Updated on November 29 – built with logo removed on copy and paste (Thanks jim for report)
Download Link
(build date: October 8, 2018)
WYSIWYG Web Builder 14.2.0 Cracked By Abo Jamal
Download Link
OR
---
For old Version
https://ma-x.org/2018/05/15/wysiwyg-web-builder-14-cracked-by-abo-jamal/
WYSIWYG Web Builder Extensions 2018

Download Link